As a Senior Vice President at HOK, Alumnus Tracy Stearns has spent his 25-year career designing captivating experiences for sports, hospitality, retail and residential projects. Tracy's award-winning interior designs are comprised of arresting combinations of color and texture, carefully selected to embody the brands, teams and clients he works with. He has built lasting relationships with diverse clientele worldwide through his commitment to designing ergonomic, flexible and engaging spaces that stand the test of time. His designs have advanced the premium experience in sports by bringing sophisticated and creative concepts to market. In addition, Tracy has helped clients rethink traditional food service, resulting in the introduction of interactive, flexible and revenue-generating dining experiences in venues nationwide.
Tracy works closely with clients, listening intently and asking strategic questions to help them realize both their immediate and long-term goals, leading to thoughtfully designed spaces that grow and evolve with the client. Whether a small residential renovation or luxury suites for a professional sports team, Tracy's leadership has contributed to HOK's successes in both the sports industry and the Kansas City market. His notable projects include United Center, MetLife Stadium, BB&T Center renovations, University of Missouri Press Box, Rogers Place, Unforked, Spin! Pizza and Nara.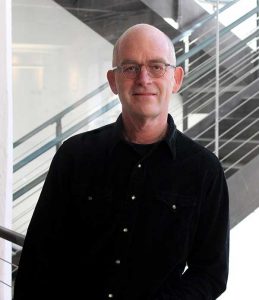 Tracy Stearns
Interior Designer, Senior Vice President at HOK
What helped you from MU's Architectural Studies?
"I arrived at Missouri with the idea that I could only do what I went down there to study. After one semester in the Art Department, I was put in contact with students from the HES Program and then a light bulb went on! After joining the HES program, my perspective was changed forever. I quickly learned a totally different way of looking at things. It was liberating to find something that I loved so much. The program combined my love for art with a newfound passion for interior design – giving me the ability to share my talents and help others through design. Everyone involved with the program – from professors to teachers to teaching assistants to students – were ALL IN. They were there to help in a tangible way that felt more like a family than a school community. We ate together, studied together, designed together and solved the world's problems together. Those memories were instrumental and foundational, instilling a humble passion that to this day carries through my personal and professional life."