The Rogers Gallery, located at the heart of the Department, is a learning and exhibition place for creative work. Student work and the creative work of practicing designers are displayed.
The Rogers Gallery was named in honor of Dr. Kate Ellen Rogers, FIDEC who was the founder of the Department. Dr. Rogers was instrumental in establishing the Interior Design program in 1954 and was a founder of the Interior Design Educators Council (1967). In 1972 she hosted the IDEC research conference in Columbia, Missouri. She retired in 1984.
The creative work of Wen Tang (Forest) is featured in our Stanley Hall Rogers Gallery. Professor Tang is from China Normal Central University who is actively participating in all of Dr. Schwarz's courses this year. He uses digital technology and traditional Chinese ink as media.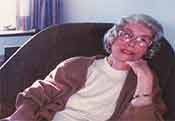 Dr. Kate Ellen Rogers was called "invincible Kate," a "legend in our own time," an "icon" and the "Grand Dame of Interior Design." Holding high aspirations for her profession and for all who came into contact with it, Kate Rogers built a program at the University of Missouri –Columbia that celebrated interior design as an art. After a Master of Arts at George Peabody in Fine Arts and Doctorate at Columbia University in Fine Arts & Fine Arts Education, she taught at Texas Technological College in Lubbock, Texas and worked as an interior designer at her interior design firm, "Design Today." In 1954 she came to the University of Missouri where she established one of the first accredited interior design programs in the nation. At MIZZOU, she was an active leader, being one of the two first women to receive a University of Missouri Faculty Alumni Award in 1968 and serving as Professor and Department Chair until 1984 in the Department of Environmental Design.
She was able to shape institutions and cultures as a national figure in interior design education, having served as educational consultant to the Missouri State Department of Education and the U.S. Department of Health Education and Welfare. She was a founder and Fellow of the Interior Design Educators Council, founder of the Foundation for Interior Design Education Research, and founder and fellow of the American Association of Housing Educators. She was the first editor of the Journal of Interior Design (1975) and authored the widely acclaimed book, The Modern House published in 1962.
With her southern charm, Kate Rogers had a self-effacing smile and giggle,… always enjoying former students and only having her picture taken in front of art. She lived in a classic architectural treasure of a home designed by renowned William Adair Bernoudy, an apprentice of Frank Lloyd Wright. Hers was one of Bernoudy's most interesting houses because it was on a triangular grid. Since retirement, Kate was active in her church, the Art League, interacting with current students, and continuing to enjoy the exhibitions in her namesake Kate Ellen Rogers Gallery.